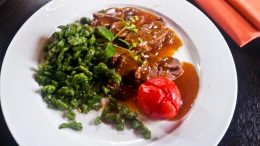 Last weekend I was visiting home again. My grandparents suggested to go to a restaurant where the meals are made with many natural ingredients from the region.
Nearly every dish is at least refined with wild herbs there. So it should not be surprising if there is a little daisy on the leg of venison, which of course can be eaten as well. Just like everything you get served (except the dishes…). Most of us chose the menu which consisted of many small courses, well portioned and extremely diverse. During the main course we were even asked if we wanted a second serving, but none of us made use of that. You surely get stuffed here. And there is also no rush, as the restaurant is completely dedicated to slow food.
Slow Food, basically the opposite of fast food, stands for regionality and authentic preparation, among other things. On the website of the "Deutsche Eiche" (German Oak), for example, it says: "In the oak, the subject of "food" is as untainted as the food itself. We do not use genetically modified and colourful packets, flavour enhancers and convenience products. We produce our own minced meat as required. Basic sauces and stocks for soups are cooked here – how else are we going to use a whole Galloway?" We all enjoyed it very much. And even the things we didn't like, we have fond memories of. All in all, it was definitely an experience.
Update: Unfortunately the restaurant no longer exists in this form.