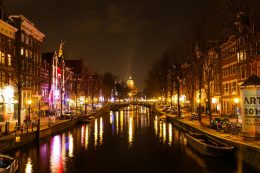 Over the weekend of my birthday earlier this year we went to Amsterdam (my birthday present). At the evening of our arrival we checked into a hotel where every room is different. One of the many design hotels in town. We got a room under the roof on the 5th floor. When we opened the door we were standing in the open shower. The next room was the bedroom, which was dimly lit by a strange looking metal ball hanging lamp. The impression of this hotel room can be accurately described as "interesting". In any case it was cosy and offered a great view out of the window.
But, of course, we didn't come to Amsterdam because of the hotel, rather for the city, so we went straight back into the jungle. Luckily it was right in front of the door. Then we tumbled through the red light district into Chinatown. Like in London there is also a Chinatown in Amsterdam with original Chinese food and dishes, which you unfortunately don't get here in Germany. And after we had eaten delicious Beijing duck in New Zealand and Hong Kong, we also looked for a place where you could get it, and indeed we found one. In our case we were looking for the variant where duck meat cut into strips is rolled up in a sheet of dough with vegetables also cut into strips, and sauce, and eaten that way.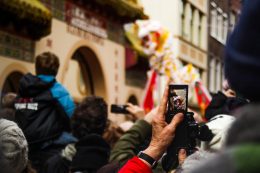 The next day we went back to Chinatown to see the Chinese New Year celebrations. Of course there were a lot of people there who wanted to see the whole spectacle as well, so we left after the Lion Dance to explore other parts of the city. We walked across several markets, of course also a flower market, and went shopping in the local groceries store Albert Heijn, where we stocked up with various food. In the afternoon we arrived at a cake restaurant with the nice name "De Taart van m'n Tante", which is located a little outside the city center. Here we got some extraordinary and delicious cakes to admire. Almost every table was decorated with a spectacular cake creation, which is why many guests took out their mobile phones and went from table to table to take pictures. With a full stomach we went back to the hotel, where we only had a short break, because we wanted to visit the sex museum. This was very interesting against all expectations, at least historically seen. At the moment there was nothing to see there.
The last day started with Dim Sum in a Chinese restaurant, where we had been the night before. After dinner we went to the Tropical Museum, an anthropology museum and one of the biggest museums in Amsterdam. It's not as good as the Te Papa in Wellington, but it is still nicely assembled. We would have liked to watch some of the movies that were shown there for a longer period of time (e.g. a movie about the ukulele, which was simply fascinating), but we didn't have that much time. After the visit in the museum we went back to Chinatown to have chinese food. During the weekend we almost only ate Chinese food. As I said, it is simply not available here. What could be more convenient than to use it excessively?
By all means, Amsterdam is always worth a trip, and with less than three hours drive from Cologne for one way, it can be planned as a day trip.