A new shoot, a new country. This time in the capital of Hungary, Budapest. As so often when I visit a new country, sometimes only a new area, first I study the relevant Wikipedia articles. In addition, I quickly learn a few important words: Yes, no, good day, thank you. In the service of av22, I fly to the ninth largest city in the EU with my charming colleagues Julia and Tony. Excitedly we board the plane that takes us from Cologne/Bonn to Berlin Tegel. In Tegel we have a layover – and we soon realize, go back on the same plane with the same crew as on the previous flight. This is confirmed by the nice flight attendant, who tells me that they will fly back the same routes that day.
None of us has ever been to Budapest, but as soon as we take a taxi from the airport to the hotel we get a great picture of this historic city. We pass beautiful buildings and impressive bridges until we finally drive over the Chain Bridge from Pest to Buda, where our hotel is located, just one street away from the Danube river. Shortly after our arrival we go to the restaurant next door, where we learn the probably most memorable word of our trip: Egészségére (spoken: "Agesh Shegera", with a rolled "r"), which simply means "cheers", and as a word sounds totally great. Even though it is a Belgian restaurant, I order Hungarian food (after all, I am in Hungary right now), and I have to say: it tastes damn good!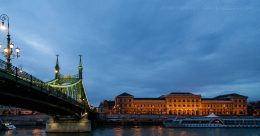 The next day's filming goes smoothly. The catering includes original Hungarian goulash, which I help myself to, and it tastes really fantastic. Aromatic and spicy, great meat, I have never eaten it in this form in Germany. In the evening, a boat trip through the city is planned. A boat trip is fun, and this one is especially nice. At late hours the sky opens up, the clouds disappear and the promenade of Budapest shines in a bright evening glow, followed by the infamous blue hour. Of course, we keep our cameras on and every now and then we simply enjoy the view. It's the perfect time to go this route and we will remember it for a long time.
Day three in Budapest and day two of the shoot, which is over for us in the evening. Afterwards we decide to go to the old town and find a restaurant there. We walk over to Pest, through some old streets. What we notice again and again are the insanely high doors. Nearly all old buildings have doors so high that you could think that only giants live here. Finding a restaurant is not that difficult, but a good and not overpriced one even more so. Eventually, we decide for one that is unfortunately not that great. Later we go to a second restaurant that offers very delicious desserts. We slowly walk back through the night in Budapest and absorb some of the flair of the city.
On the day of departure we travel again via Tegel to Cologne/Bonn. When boarding the plane, the flight attendant and I look at each other briefly until she says: "Monday?", whereupon I answer: "Monday!" What a coincidence. The flight is pleasant, the change in Tegel rather not, and probably the reason why BER is being built. It would be so easy to get passengers with connecting flights into the transit area right next to the exit of the plane. Saves time and personnel. Instead, all passengers would have to leave the security area only to be screened again. As a result, passengers who want to continue their flight to Munich but who are not waiting in the long queue for the security check until they reach the gate are called out almost non-stop. The rest of us let the 20 or so people pass, as we have a little more time. And as expected, once again I have to unpack my backpack with all my gear almost completely and show what's inside. Then the next highlight. Hopefully the genius responsible for this is not involved in BER. After I was completely scanned, I have to get out of the security area with my backpack accompanied by a security guard and 10 meters around the corner where the drug tracking device is located, just so that I have to get a complete check-up afterwards again, because I was outside the security area. The last stage is finally over in no time and we arrive well in Cologne/Bonn.