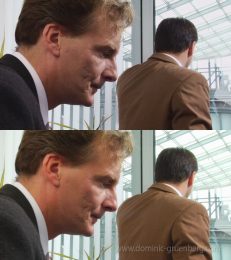 At the beginning of 2007, almost exactly ten years ago, we shot the last learning project during our studies. My (main) task was to edit the film. I thought the result was successful (especially considering the circumstances). But what always bothered me were the unnatural colors and the blatant video look. Due to a lack of time, this was our final film.
In the end I had saved the whole project on an external hard drive. This hard drive was hidden in the closet for a long time, until years later I had access to a Mac with Final Cut. I used it to export the project files, but I couldn't import them into Edius. So I let the project rest again. Earlier last year, I upgraded my editing machine. And after watching the great tutorials on color grading on the new version of Edius by Matthew Scott, I needed some material for testing. This movie was the perfect solution. After a lot of tinkering I was able to at least partially import the project into the editing system. So I edited one scene, and because I enjoyed it and the result was quite appealing, I edited another one. And then another one. And at the end the whole film.
Because the project could not be exported cleanly from Final Cut, many sounds were missing or were no longer usable. A completely new sound cut would have been connected with an insane amount of work. Among other things, we had the sound backdrop of the outdoor stage of the WDR open house during the shoot in the park at the state parliament in Düsseldorf. So I had to use the existing audio track and was only able to make a few small changes.
I desaturated the colors significantly, since the camera (Panasonic HVX200) had a very high color saturation in the default settings. Red and green cast were corrected as well as the slight overexposure due to the low contrast range. I also zoomed in on some shots and changed the size slightly. Unfortunately, the compression and the image quality of the source material is not very good, so that the changes all had to be done within a narrow range. In some shots you can also see that I used this margin to the maximum. The goal was to create a more natural, but also a slightly darker color environment.
It should be mentioned that we had a budget of an astonishing 250 € at that time. At least the sparse equipment was provided (except for the skateboard dolly). According to our calculation we spent 249,87 €. I don't know what we put into it privately anymore. In the end we learned a lot from this restriction and we can all say that we still profit from it today, especially when it comes to improvising.